Want to learn how to fly fish, or do you already have experience but want to improve your cast or learn techniques for fishing new water or to new species? 
Around the world, fly casting instructors can teach you the basics, help you add distance and precision to your cast, teach advanced techniques like double haul or spey, or help you tweak your cast for physical challenges like a shoulder issue. 
Fly fishing is growing at an exceptional rate, with many new participants joining in enjoyment of the sport. From 2016 through 2018, the number of fly fishing participants in the U.S. increased by an average of 4.5% per year, and in 2018, 17.4% of participants were new to fly fishing (source: 2019 Special Report on Fishing from the RBFF and the Outdoor Foundation)! 

Below, we've outlined what to expect from fly fishing lessons with a casting instructor. 
Further, you can check out our growing list of partners who offer casting instruction and can be booked for lessons online through Fisher Guiding. We'd love to welcome you into the sport of fly fishing with the help of one of our casting instructor partners!
About Casting Instructors
While certification is not a prerequisite to provide casting instruction (unlike a guide license or captain's license required by many states and countries in order to offer fishing trips for hire), it can be helpful to look for casting instructors who are certified by Fly Fishers International (formerly known as the Federation of Fly Fishers). 

FFI administers a Casting Instructor Certification Program around the world which was developed in 1992 to educate and enhance the growth of fly casting instructors. See more info on the objectives of the program from FFI here. Looking for an instructor certified by the FFI is a good assurance that you'll be learning from someone skilled in fly casting technique and in teaching principles.
FFI Certification Levels
Casting Instructor (CI): CI's pass both a written exam and a casting performance exam that demonstrates their teaching and fly casting abilities. To pass, instructors must succeed on all teaching tasks and fail no more than two of 15 performance tasks covering loop control, line control, roll casts, accuracy casts, and distance casts.
Master Certified Casting Instructor (MCI): MCI's must pass an MCI Exam after already being an FFI CI or entering through the FFI's Challenge Program. The MCI exam includes more performance standards in its performance assessments and covers a few more techniques such as  spey casting.
Two-handed Casting Instructor Program (THCI): THCI's must also already be an FFI CI, MCI or enter through the FFI's Challenge Program. THCI's must pass an additional THCI Exam involving performance of overhead casts, roll casts, switch casts, single spey, double spey, snake roll, snap T, underhand casts, line management, and sunk line techniques.
What to Expect from a Lesson
Length / Duration: Most casting instructors offer lessons in one hour increments. Some like to keep casting lessons to an hour at a time in order to avoid student fatigue and teach a focused amount of content and technique that can be retained. Others may offer lessons for a minimum length such as 2 hours, especially for introductory lessons which cover more content. Many casting instructors have day jobs in another industry, so the length of lessons may be structured to make time commitments work for their schedules too.
What you'll learn:
Fly casting principles and mechanics
Fly fishing equipment, useful knots, and technique
Etiquette while fly fishing including on-stream, wading, and fishing from boats
How to manipulate the action of your fly line and what can happen to it. You may learn terminology like slack, drag, mending, tailing, loops, line and leader, forward and back casts, false casts, and presentation.
Instructors are taught to recognize, diagnose and correct faults.
Helpful information to share with your instructor:
Start with your experience or lack thereof, and be honest! Casting instructors aren't here to judge you or criticize unnecessarily. They're here to maximize your enjoyment of fly fishing, enabling you to have more success when you go fish on your own or with a guide.
Tell your instructor where you fish or plan to fish, what species you typically target or plan to target, and what gear you have. If you'd like to learn or work on a specific skill, let them know so they can plan ahead for the experience.
Share any injuries or physical conditions that may affect your movement. An instructor can suggest modifications that would enable you to cast more comfortably or in spite of limitations.
Come Prepared:
Wear comfortable clothing that's neither too tight and restrictive or too loose that it'll catch your arm, rod, or fly line. Also wear a hat and sunglasses or some form of eye protection.
You don't need a body of water to practice casting. In fact, many instructors teach on dry land and in public places like parks. Though, some casting instructors may take you to water to put what you've learned to the test. If that's the case, purchase a single day (or longer) fishing license if you'll be going to public water. Your casting instructor should let you know beforehand whether it's needed if it's not already spelled out in their information. Here's fishing license information for each state.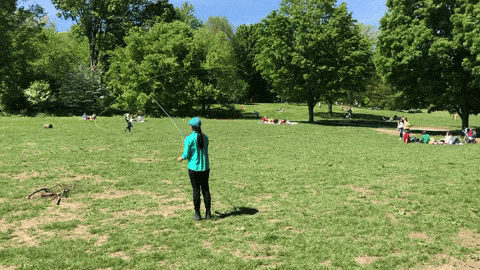 Equipment / Gear:
For safety, actual hooks are not typically used during casting instruction. Yarn indicators are a common replacement so that you can still spot where your hook would be.
Almost all casting instructors will be able to provide gear for you to learn with, since many newcomers don't yet have a full fly fishing setup. If you have gear though, it's always most helpful to bring your own and practice on what you would fish with. You'll be more comfortable and skilled at utilizing it.
Casting Instructors
Here is a list of casting instructors who are set up to be booked for lessons through Fisher Guiding. The list is just getting started, so if you're looking for instruction in another location, let us know and we can provide you with options near you that aren't listed here. You can also search for fly fishing guides from our home page, as all professional guides are skilled in teaching whether as a part of guided trips or as introductory lessons.
United States
Delaware Fly Casting / Fishing Instruction
Florida Fly Casting / Fishing Instruction
Illinois Fly Casting / Fishing Instruction
Massachusetts Fly Casting / Fishing Instruction
New York Fly Casting / Fishing Instruction
North Carolina Fly Casting / Fishing Instruction
Pennsylvania Fly Casting / Fishing Instruction
Virginia Fly Casting / Fishing Instruction
Washington Fly Casting / Fishing Instruction
Wisconsin Fly Casting / Fishing Instruction
International 
Bahamas Fly Casting / Fishing Instruction
Ireland Fly Casting / Fishing Instruction
Sweden Fly Casting / Fishing Instruction
United Kingdom Fly Casting / Fishing Instruction
If you are a casting instructor and want to offer lessons to be easily discovered and booked through Fisher Guiding, let us know or sign up to get started here. 
Online Lessons via Video Conferencing
Can't get to the location of a casting instructor? Simon "Bonefish" Bain is a Nassau native in the Bahamas who has taught fly fishing classes and seminars across 38 U.S. states in addition to the islands of the Bahamas. He has taught the likes of Lance Armstrong how to fly fish and has been on tour with other fly fishing legends like Lefty Kreh, Flip Pallott, and Bob Clouser.
Simon is available for lessons via video conferencing (e.g. Zoom, Google Hangouts Meet, WhatsApp) to help you learn, improve, or practice before a big trip. Book Simon "Bonefish" Bain for online casting lessons by video conferencing.
Fisher Guiding is the modern way to book fishing experiences with guides, charters, lodges, outfitters, and instructors. Search for trips and more around the world and start planning your next experience today. Pictured below: Echo Adventure Cooperative.