At Fisher Guiding, our goal is to make angling more accessible, largely through making it easier to plan trips with guides, charter captains, lodges, and outfitters who share their expert instruction and knowledge to make fishing trips successful for all ages.
We hope this quick post (courtesy of Alysson Cwyk, an excellent instructor herself) inspires you to plan a family-friendly fishing trip, whether it's with a guide or if it's just you and the kids with the help of some of these tips and links. After all, we believe good parents don't let kids grow up scared of fish 😉.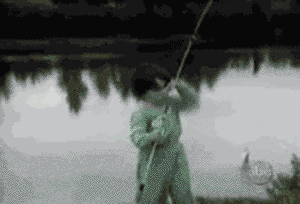 Did you know that nearly 83% of current adult anglers were introduced to fishing during their childhood? 
In the 2017 Special Report on Fishing, published jointly by The Outdoor Foundation and Recreational Boating & Fishing Foundation, it states that it is "critical that potential participants are engaged in meaningful fishing opportunities at an early age". 
Youth participation has slipped every so slightly over the years, which is more reason to engage children in the sport that we love in order to continue its growth into the future.
If you are thinking of going a DIY route, make sure to bring snacks, take breaks, and be patient. There's no need to cart around your favorite rod or target a particularly difficult species: keep things simple. 
And as always with children, safety is key. You'll want to make sure they have protective eyewear, defined rules, and use barbless hooks. Remember: it's not all about catching fish.
Want a little help from your friends? Here's how you and a guide can ensure positive memories on a parent + kid fishing trip. 
And you're in luck: Fisher Guiding has numerous family-friendly fishing options to choose from around the world. Here's a brief sampling of the type of guides and charters you can find around the world. Search any location from our home page to find options around you or in the destination you're visiting.
Based out of: Cleveland and Port Clinton, Ohio, United States.
Price range: $300 - $500 (up to 3 people).
Cleveland is an excellent location for charter fishing with kids, in part due to it being the "Walleye Capital of the World". The abundance of walleye makes it likely that you'll stay hooked up, which is important since you want a high success rate when fishing with kids. Plan a day at Cedar Point, the roller coastal capital of the world, and a day of fishing on Lake Erie for an unforgettable family trip.

Based out of: Port Chester, New York, United States.
Price range: $575-$1000 (up to 6 people).
New York City has an uncountable number of activities to offer to all ages. However, the frantic pace of the city can be overwhelming at times, especially with children in tow on vacation or growing up in the city. If you have a car, a location like Port Chester (about an hour's drive from midtown Manhattan) is a perfect distance to escape to for a leisurely day on the water in the Long Island Sound. Watch time slip away while you and the kids reel in porgies and other bottom fish or jig for bluefish and striped bass. Or, depending on age and attention span, go out further for sharks and harder-fighting species. Captain Danny of Fins Up Charter knows how to keep the action going.
Based out of: Clearwater, Florida, United States.
Price range: $450-$825 (up to 4 people).
When visiting a vacation destination like Florida, remember that there's more to do than just hitting the beach! Inshore fishing is a smart choice when picking a charter so that you don't have to worry about the rough seas further out and can keep kids active with casting. The warm climate and abundance of different species makes for a fantastic opportunity to learn and practice fishing skills year round.
Based out of: Cabo San Lucas, Baja California, Mexico.
Price range: Trips start at $320-$400 (up to 3 people) on their 26-ft Cabin Cruiser, though the fleet has 12 boats with plenty of options for larger groups. See all here.
Cabo is another location where the fishing never stops. If English is your family's first language, an English-speaking crew like Cabo Sport Fishing Fleet has is certainly helpful for teaching everyone aboard how to fish, handle equipment, and stay safe.
Once again, the above charters are just a sampling of recommendations and hopefully give you ideas of what to look for in any destination. Search any location for verified guides and charters on our home page.
Not only will it make you proud the first time your kid(s) feels a bite on the line and reels in a fish, but hopefully your introduction will inspire them to become "committed outdoor stewards, ultimately ensuring that our waterways are protected, our communities are healthy and our industry is thriving". 
What more could you ask for? Best of luck introducing youth to fishing!
Fisher Guiding is the modern way to book fishing trips with guides, charters, lodges, and outfitters. Search for trips around the world and start planning your next trip today.