When planning a fishing trip in Maine, you can feel confident booking a guide or charter knowing that the state has been licensing its fishing guides for more than 100 years and is known to have some of the most rigorous standards in the profession. 
Take a look below at guide services throughout Maine. They are grouped loosely by region, but please note that many of these guides fish multiple regions or all over Maine. Follow the linked pages to see more information, send a guide a message, or book a guided trip!
Licenses and Regulations
For freshwater fishing, you will need to purchase a fishing license. Here is a link to buy a Maine fishing license.
For saltwater fishing, you will need to register with the state on their Saltwater Fishing Registry, which only costs $1 (source: Maine Dept. of Marine Resources). However, there are common exemptions including:
You are fishing as a passenger on a for-hire vessel (charter or head/party boat) captained by an individual who possesses a valid recreational saltwater fishing license.
You are registered/licensed to engage in saltwater recreational fishing in another state, or with the National Registry.
 Southern Maine (including Sebago Lake)
Captain Charles McGee operates an 18 ft. Sun Tracker pontoon boat for trolling and boating adventures. He specializes in the lakes region, Sebago lake, and Southern Maine's lakes and ponds. Book trips to fish for brown trout, rainbow trout, largemouth bass, smallmouth bass, and pike. Half day fishing trips for 1 -6 guests are $325, full day trips are $375, or you can even get in on a shared charter trip for $100 per person among a group of 4 for days that aren't already booked.

Headin' North Guide Service specializes in fly fishing trips across the state of Maine. Fly fish for smallmouth bass or landlocked trout and salmon on a full day for 1-2 people for $400. Smallmouth bass can also be fished with spin gear if that's your preference. In Western Maine, they fish the Magalloway River, Upper Androscoggin River, and Rapid River. In Southern Maine, fish the Lower Androscoggin for a float trip or many of the smaller rivers and ponds, especially around the Greater Portland area. Come see why "headin' North just always feels right" with guides Aaron Broaddus, Vince Mathews, and Marc Turgeon.
Peterson's Guide Service of Maine guides the Sebago region, Moosehead region, and Katahdin region pursuing native landlocked salmon, brook trout, brown trout, smallmouth bass, pike and pickerel. They offer half day trips (Sebago region only) for 1-2 anglers for $300, and full day trips for 1-2 anglers for $400. You can also turn a full day trip into an overnight trip for just $125 extra. Jon Peterson also writes a blog on fishing for the Bangor Daily News.
Featured Review for Peterson's Guide Service of Maine from Jack Dale (September 14, 2019): "We enjoyed our trip very much, and we caught some fish! John was a wonderful guide, we had an enjoyable conversation, and we would definitely fish with him again if we were in the area."
Casey Mowers, owner and operator of Reddog Guide Service, fell in love with the state of Maine after receiving orders to the state by the Navy. Since retiring from the Navy, he started guiding and applying knowledge from fishing tournaments in the region. Two of the lakes (Cobbosseecontee and China Lakes) that Reddog Guide Service fishes regularly are ranked among the top 100 bass fishing lakes by Bass Masters. Casey offers half day ($100) and full day ($200) trips for bass and pike, full day trips for trout ($200), or a $350 trip for remote camping and fishing for bass, trout, salmon, or touge.
Richard "Two Sheds" deCosta offers trips uniquely designed for a vintage experience and peaceful connection with nature. Two Sheds Fishing Guide Service primarily uses vintage (1940s-60s) wooden boats and motors and even offers an ultimate experience for motorcyclists, Rod-n-Road Trips (motorcycling, camping, and fishing)! Book a half day standard trip for $150, or full day standard trip for $250. Or, check out the Vintage Maine Fly Fishing Experience for $595, reserve a private pond in Hollis, Maine, for yourself and guests for $150, fish Sebago Lake from $150, or organize your Rod-n-Road trip for $350 per person per day (BYOB… bring your own bike).


Central Maine
Guide Richard Behr wants to change the way that smallmouth bass have been overlooked by both fly and spin fishers in Maine. Richard specializes in drift boat fishing trips on Maine's premier smallmouth bass rivers, and he built his Freestone Drift Boat specifically for fishing these waters. Half-day trips are $275, and full day trips are $350 with Three Rivers Guide Service on the Kennebec, Androscoggin, and Penobscot Rivers.
Currently, Dan Pierce is the only tenkara guide in the state. Tenkara is the Japanese method of fly fishing, which uses only a rod, line and fly, and Dan specializes in instruction for both adults and children. Fish for beautiful native brook trout, landlocked salmon, or smallmouth bass. Book a half-day for 1-3 people for $150, or a full day for $250.
Featured Review for Maine Tenkara Guide from Cassidy Holzer (June 8, 2018): "He was so awesome!! I have an 11 year old nephew who had an absolute blast. Dan was incredibly knowledgeable, flexible, and patient. We will definitely be back to fish with Dan again!"
T.J. Heberts is primarily a river guide but also covers trips to any lake in Maine and many ponds, including remote trout ponds and native brook trout streams. You can choose to wade, float, or troll with this born-and-raised Maine-ah and Navy veteran. If you want to target brook trout, rainbow trout, brown trout, or landlocked salmon, reach out to TJ. Prices start at $150 for a half day for two people and vary based on the length and type of trip or adding a third angler.

Northern and Eastern Maine
Chick Hill Guide Service is a fishing and upland hunting guide service located in central Maine, 30 minutes from Bangor and close to Acadia and MDI. Owner Mike Hegarty recently completed 40 years of active service in the United States Navy and is now a Registered Maine Guide licensed for fishing, recreation and hunting and guides as a second career. Book a full day for 1-2 people smallmouth bass fishing or trolling for landlock salmon for $350 or a full day fly fishing for trout for $375.
Harold King offers morning and afternoon charters on Moosehead Lake as well as full-day ice fishing trips when the lake is frozen, with a NO FISH, NO FEE guarantee! Typical fish to be caught are landlocked Atlantic Salmon and trout with occasional perch, smallmouth bass or cusk. Charters are $300 for a half day for 1 - 4 people, and ice fishing trips are $350 for 1 - 3 people, $80 for a 4th person.

Featured Review for Moosehead Area Guide Service & Lodging from Angeline Laliberte (July 6, 2019): "Such a great time! Harold is the best of the best and it is very noticeable after being on the boat for only a matter of minutes. Tons of fish, fun, and new knowledge! We will definitely be returning for another trip!"
Maine Guide Rich Yvon grew up hunting, fishing and camping all over the U.S. His Uncle Rodney was a Master Maine Guide, and many family experiences led him to becoming a Maine guide himself and passing along his love and passion for the outdoors to others. Twin Maple Outdoors also has a luxury sporting lodge which anglers can stay at. Depending on the trip type and location, half days are $350 and full days are $400 or $450. Prices are for 1-2 anglers, but a third angler can be added for $50 to any trip, and children 12 and under are free of charge.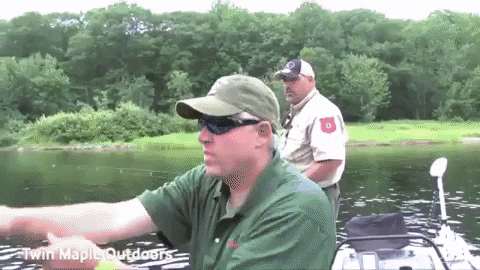 Guide Michael Congelosi is a native of Downeast Maine dedicated to putting sportsman on fish and game. He offers trips trolling for Lake Trout and Salmon or casting for Smallmouth and Largemouth Bass. Trips are for 1-3 anglers and are only $125 for a half day for 2 people, or $200 for a full day for 2 people. Add $50 for a 3rd angler on half days, $75 for a 3rd angler on full days.
Originating in the 19th century, Weatherby's Maine Lodge is one of the oldest and most famous sporting lodges in the county. Whenever possible, Weatherby's guides utilize locally designed and crafted Grand Lake Canoes. Enjoy accommodation in one of 15 spacious cottages and delicious New England-style cooking during your stay.
4 nights stay / 3 days guided fishing, all inclusive: $1215 per person double non-peak, $1650 single non-peak, $1321 per person double peak, $1771 single peak.
7 nights stay / 6 days guided fishing, all inclusive: $2440 per person double non-peak, $3240 single non-peak, $2650 per person double peak, $3550 single peak.
Time to get those lines tight!
Fisher Guiding is the modern way to book fishing trips with guides, charters, lodges, and outfitters. Search for trips around the world and start planning your next trip today.