From Trentino and Lake Como in the North down to the Sicilian islands, Italy has a variety of regions to explore on your own or get hooked up with a fishing guide, charter, or lodge, whether you're into conventional and traditional fishing or fly fishing. If you can, take the opportunity to tour these landscapes and fish from freshwater to saltwater, then tell us how it went!
Maybe you'll agree with our proposal that Italy, affectionately known as Bel Paese (the Beautiful Country), should also be known as a home of Bel Pesce, for the fishing is beautiful to match.
- Luke Campbell, Fisher Guiding Co-Founder
Licenses and Regulations
Recreational sea fishing does not require a license.
Freshwater fishing is regulated locally so the rules vary by region. If not hiring a guide, we recommend visiting a local fishing store or post office to buy the proper license and local waterway permits so you can ensure you'll be complying with up-to-date regulations and won't end your trip with a fine.
Type A licenses are for professionals and commercial fishers, Type B licenses are for local citizens, and Type D fishing licenses are for non-residents on Italian territory to be able to fish in public waters; Type D licenses are valid for 3 months.
If you're a foreign citizen, you'll need to apply for a tax identification number before you can purchase a license. Here is more information on obtaining a tax identification number.
To reiterate, since many freshwater locations are private, you'll want to speak to a local who's in the know where you're going and get the proper permits to fish if you're going independently. 
Though, if hiring a guide, one key benefit is that licenses and permits will be taken care of by your guide and you'll be fishing worry-free with an expert.
Seasons
Freshwater
The season for trout is generally Spring through Fall (i.e. March through September) though they may still be biting through December in some areas and the best months slightly vary by water temperature in the location. This is a great topic to look for from guides or as a question to ask.
Carp fishing starts to heat up a little later than trout, usually in April and winding down in November.
Saltwater
Summer: Bluefin Tuna are around all year but a prime target all summer and early Fall. Mahi Mahi are prime in the late summer months (July through October) and are around most of the year though slow in winter. Mackerel are prime in summer and Fall. Dentex are mainly caught in the summer, with the bite warming up in Spring and cooling down in Fall. May through November, Spearfish are also a hot target.
Spring and Fall: False Albacore like the moderate temperatures and are a good target in the Spring and Fall. Albacore Tuna are a prime Fall fish but can also be around at other times of year. In Spring, Bonito are around as are Blue Sharks. Thresher Sharks are around in late Spring / early Summer. Mackerel and Bluefin Tuna are a solid opportunity (see above).
Winter: Winter is primetime for Amberjack and Swordfish, though they can be caught year-round like many other fish off Italy's coasts.
Regional Information, Guides and Charters
Search more in any area from our home page, FisherGuiding.com
Lake Como

There are amazing day trips to be had while on holiday in Lake Como and Valtellina, the valley in the Lombardy region of northern Italy bordering Switzerland. Lake Como, the third largest lake in Italy, is accompanied by Lake Lugano, and other alpine lakes. Fish for trout, grayling, zander, pike, carp, perch, chad, whitefish, or chub with spin fishing or fly fishing techniques.
Trentino
As Matteo Lavezzini tells it, Trentino is a region blessed by the fly fishing gods. Alpine streams flow down from the tops of mountains to form wide rivers, namely the Adige River, in the glacial valleys. These rivers, streams, small creeks, and alpine lakes all create a paradise for trout and anglers who enjoy pursuing them. Within the Trentino region, you'll find famed rivers Alto Chiese and Alto Sarca, streams in valleys Val de Sole, Val di Fiemme, and Val di Non, plus tremendous fishing waters in Verona like the Adige River. There is plenty of opportunity for all techniques from dry flies, nymphing, or streamer fishing, so contact a guide to arrange any type of trip you'd like. 

Want to come home from your trip with a new type of fish crossed of your list of catches? Target the twait shad, nicknamed "Italian salmon" for their migration from the sea to freshwater.
Book trips with:
Western Italy / French border
Near the French border and Maison du Chamois, Spacefishing Adventures manages two trout area lakes and more beautiful areas of the Vallestretta torrent for catch and release fishing. Spacefishing Adventures also organizes trips in nearby France on the great Serre Poncon lake and in Sweden, both in the Baltic Sea and in inland lakes. Watch their guide reel on YouTube.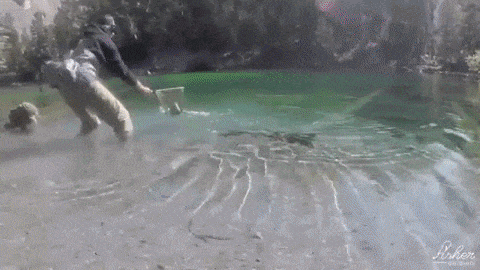 Tuscany and Florence
Fishing under the Tuscan sun … who would want to say no to that? Head to the tailwaters of the Tiber River, the Arno River flowing through Florence, or estate lakes and other waters throughout the countryside.
Abruzzo Region (nearby Rome)
Less than an hour's drive from Rome, the region of Abruzzo is a rich, fertile land that lies between the Apennine mountain range and the Adriatic Sea. Abruzzo features a vast range of ski slopes and beaches, nature parks and historic art towns, medieval churches, castles and museums.
Sicily
Sicily is the largest Mediterranean island, but one of its great aspects for fishing is that it is surrounded by many smaller islands that attract gamefish. Reel in diverse species of fish in between soaking up the rich history and culture of Sicily.

Liguria and Genoa
Italians have been fishing the Ligurian Sea for centuries, and sportfishers will not be disappointed by this bountiful saltwater fishery.

Plan your trip to Italy and be the next to catch some Bel Pesce ... Buon Viaggio!